Are you feeling bored with Adobe Photoshop, or you just can't afford the monthly subscription, reasons may vary from user to user but if you are on this page, clearly indicates that you're searching for alternatives to Adobe Photoshop, right?
Well, We can assure you of this, this post will be useful for you and we won't disappoint you in this term. Photoshop is one of the most widely used software for photo editing, even a beginner or professional uses this tool for giving professional look to any photos.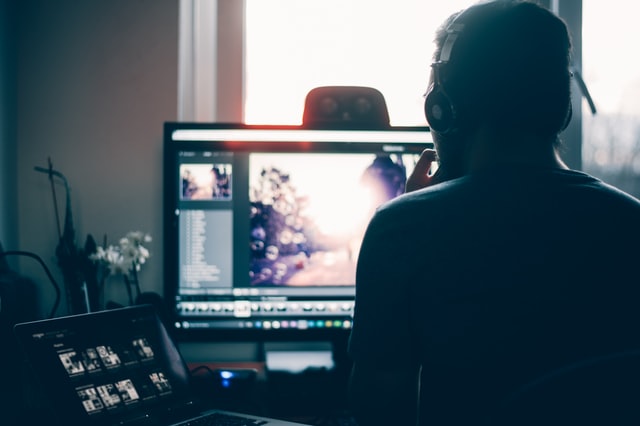 Photoshop has all the basic and advanced features that are highly capable to retransform your photo within a few minutes. There are rare chances to find the drawback in Photoshop but the only drawback we can see in this tool is, it comes with a monthly subscription and the subscription cost may hurt you.
So we researched various photo editing software and finally reached the conclusion where we can guide the top alternatives of Adobe Photoshop. So let's get started.
Affordable Alternatives of Adobe Photoshop:
Below we're going to introduce you to the Top 5 Best Affordable Alternatives of Adobe Photoshop:
1. GIMP (Free):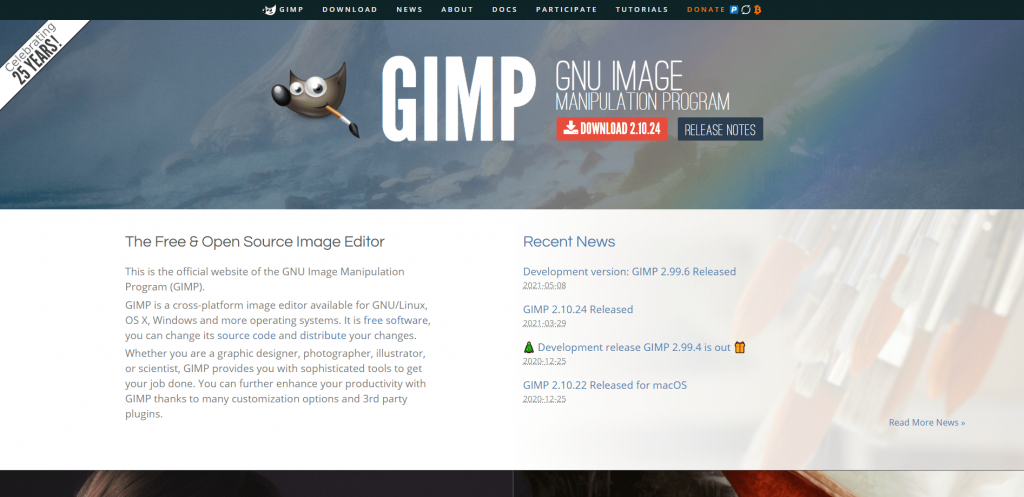 Our first tool is GIMP and you don't need to spend any money on it to take advantage of it, because it's FREE. Being free always means a lack of features, in fact, this GIMP is known to be similar to Photoshop. 
GMIP included some of the unique features that you generally get in the PhotoShop. The crucial thing is that it has included all the basics and advanced features such as customizable brushes, auto tools to increase the photo quality, layers, and filters.
Apart from that, it has a large and active community and various types of plugins available and keeps adding new ones and developing the software continuously.
There's some downside as well in the tool which you should be aware of like it comes with too many customization options which may intimidate the beginners, no native support for any type of RAW files, you may be required to add some plugins to access some features.
Features:
GIMP enables you to create GIFs with the help of Layers.
Open source and fully free of charge to use.
A user-friendly interface so beginners can also work with.
All the basic and advanced tools and features are included.
2. Photo Pos Pro 3 (Free/Premium $30):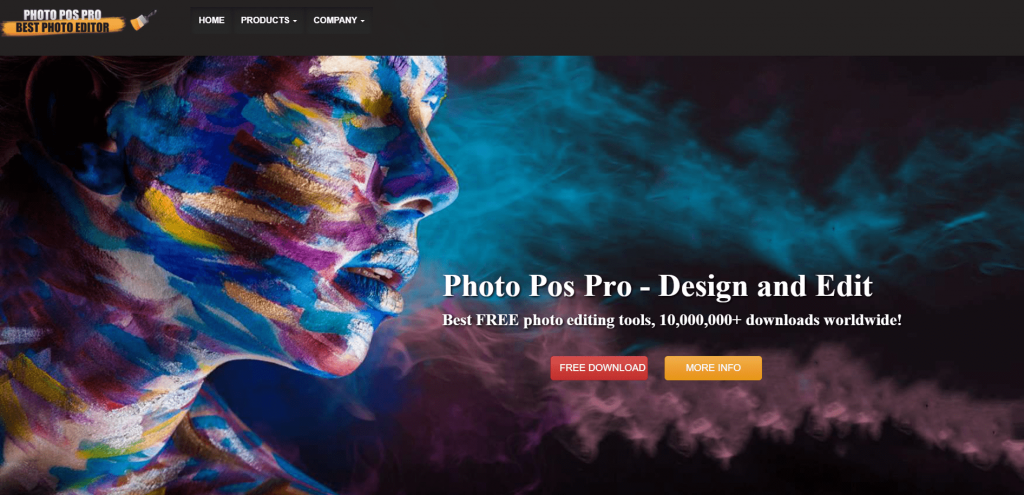 If you're a novice then Photo Pos Pro 3 is for you. This tool provides you all the basic level and advanced level functionality that can play a handy role while editing the photo. 
The user interface provided in this is compatible with both beginners and professionals. If you're not familiar with the editing and all that then you can choose the automatic adjustment & one-click filters on the flip side advanced level users can take the feel of Photoshop.
This software provides you various tools like layers masks, layers, collection of color refinements tools, healing brushes, and many more.
If you only require a 1024 x 2014 size photo then you can have the option to use it for free, but in the case of larger files, you may have to spend around $30 for enabling the advanced features on the software.
Features:
Support Rich Text Tools.
Dozens of Special Effects available.
Support multiple Gradients, Patterns, and Textures.
Able to convert a directory of any image to Bmp format.
Free tools are also capable of redefining the image.
3. Affinity Photo ($50):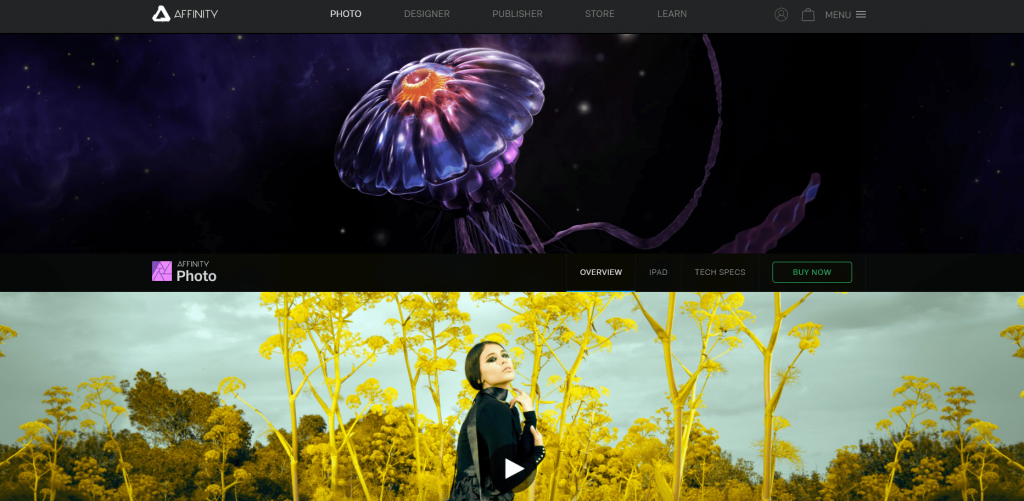 Affinity Photo editing software comes with a price but this tool has all the features that are available in Adobe Photoshop. 
Advertisements
If you're a newborn baby in this photo editing field then you may have to spend a little time getting familiar with this tool because the tool has a lot of advanced features, and all the tools are highly capable to give you stunning output.
Not only this but this software also allows you to open and edit photoshop files on this. In its inception time, it was only available for Mac users, but as it started gaining popularity it tried to capture the Windows users as well and is currently available for both.
You are finding the solution for creating the 360-degree photos this tool enables you. If you or your kids love digital painting then this software could be the best choice for you.
Also provides you Full tone mapping controls, Alignment and perspective correction, and others features.
Features:
Almost all the tools available in Photoshop.
Allows you to open the Photoshop file.
Tools for a 360-degree photo.
Benefit from a stylish and uncluttered interface.
4. Pixelmator ($30):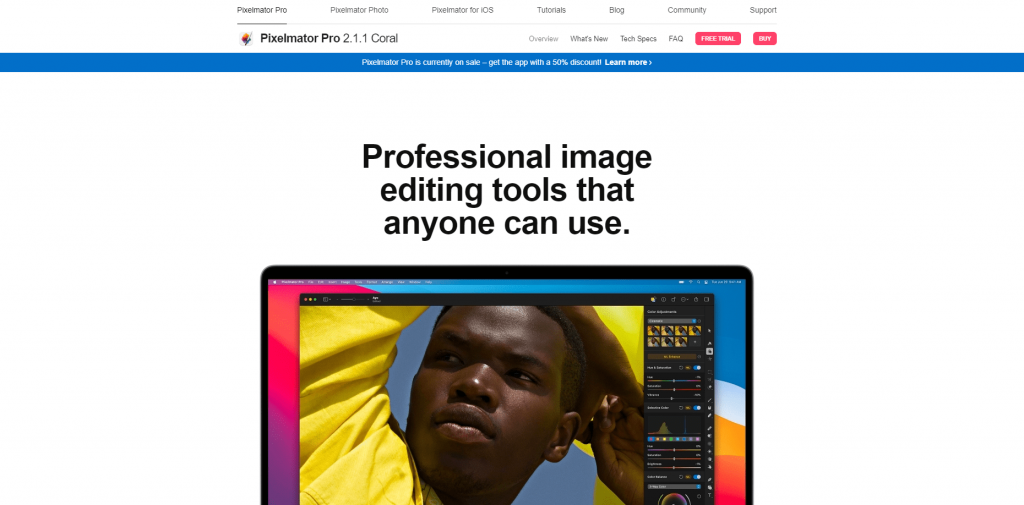 Pixelmator is another option that keeps the Photoshop features and has the power to replace them but to be honest if you are looking for the same feature that is available in Photoshop but this is not for you, nevertheless, you can use it as an alternative to photoshop. 
You can easily edit your photos with layers, along with that, which comes with multiple filters like kaleidoscope effects.
If you are looking to work with the RAW file, then Pixelmator ($30) won't work, you can upgrade to the pro version ($60) for RAW files.
It supports macOS 10.14.4 or later and you don't need to spend a lot of bandwidth for downloading the software because it is 117 MB only software.
If you're familiar with Photoshop then the interface of this software won't take you too much time to get familiar with.
Features:
Small size software.
Interface similar to Photoshop.
Bunch of filters, layers available.
Easy to operate.
5. Pixlr (Free):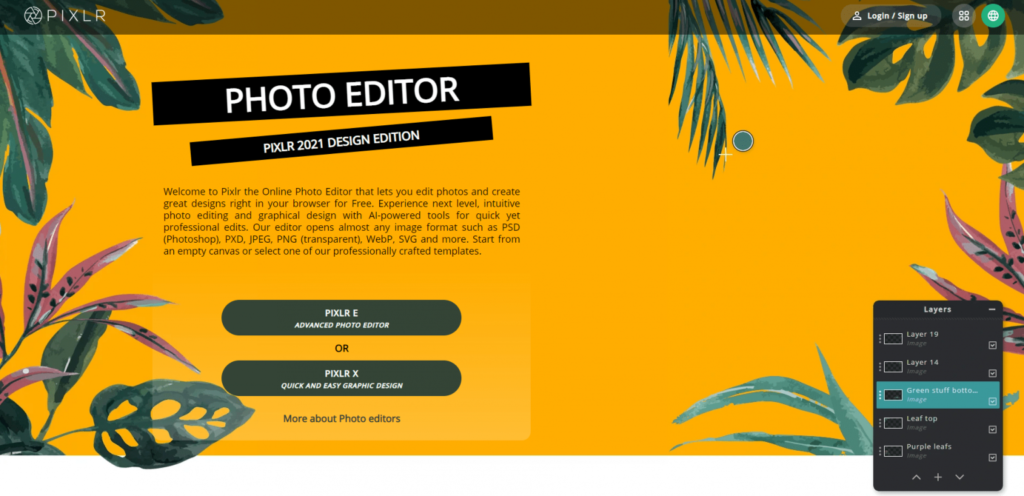 The last one in the list of Alternatives to Adobe Photoshop is Pixlr. If you don't want to use hard drive space for installing the software, but still want to edit photos like a pro, then Pixlr is for you. 
It is basically a web-based software that runs on browsers with the help of the Internet. It offers you all the advanced features that you are used to in photoshop such as, color adjustment to automatic optimization, healing and clone tool, multiple filters, brushes, and others.
Pixlr enables you to remove the background with a click. Photo collages are one of the crucial things for any photo editing software and fortunately, Pixlr can fulfill this requirement with ease.
Simply choose the layout you want to use, upload any image, and start editing. They have a library with a bunch of templates, you can choose from there and create any type of images like YouTube thumbnails, social media banners, Facebook posts, and a lot more.
Features:
Image Retouching.
Multiple filters and effects.
No need to download software.
Template library available.
Conclusion:
In this post, we have shared the top 5 software that can work like Adobe Photoshop so in case you are tired of photoshop you can choose any of them to edit your photos and give a stunning look.